Whether you're vegetarian, vegan, or simply trying to amp up your intake, getting enough plant-based protein is easier than you think—it just requires a little creativity.
1. Swap chickpea hummus for edamame hummus.
Move over, chickpeas—1 cup of cooked and shelled edamame packs a whopping 22 grams of plant-based protein. It's also a great source of vitamin K and folate, making it a nutritional home run. With its light, mild taste and creamy texture, edamame is perfect in hummus form. Try eating it on toast or using it as a spread in sandwiches!
2. Sprinkle nuts and seeds onto every salad.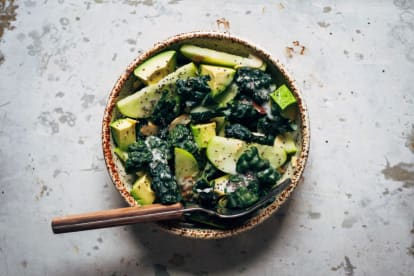 The next time you're assembling your favorite kale salad, don't forget this easy protein fix. Even just adding 1 tablespoon of your favorite nuts or seeds can add up to 5 grams of easy, plant-based protein. Almonds, chia seeds, roasted sunflower seeds—they're all delicious as a salad topper!
3. Say yes to potatoes.
Potatoes seriously don't get the credit they deserve. One large white potato, baked, is a great source of Vitamin C, Vitamin B6, and Potassium, with up to 7g of protein. The key here is cooking with minimal oil and salt to maintain the nutritional integrity of the potato.
4. Add Hemp Seeds to Smoothies For Whole, Natural Protein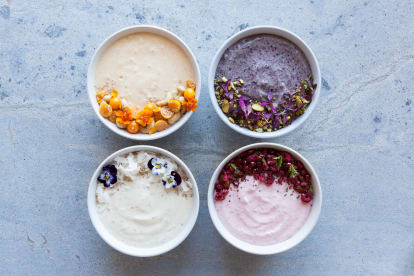 With a high-speed blender, you won't even notice that you're drinking hemp seeds! One tablespoon of this mighty seed has 4g of plant-based protein, not to mention a healthy dose of Omega-3 Fatty Acids (it's good for your brain) and Magnesium (it helps fight inflammation).
5. Switch Out White Rice for Wild Rice
White rice may give you that carb-y high, but it doesn't have a lot to offer nutritionally. Try swapping it out for wild rice to get that protein boost—1 cup has 7g of protein. Plus, with its rich, nutty taste and chewy texture, you'll feel fuller for longer (thank you, fiber!).
6. Try Homemade Dressings for Salads and Bowls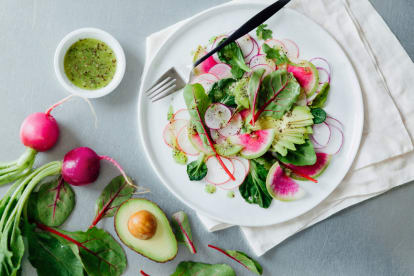 By making your own homemade dressings and sauces, you can add in protein-powered ingredients with virtually no effort. Try an herby tahini sauce on top of a bowl of millet, or a peanut-butter based Thai dressing with noodles. Not only will you save yourself from added sodium and preservatives, but you'll get the added protein to boot.