June 16, 2017
I consider myself a pretty determined person. If I ever had to drop a few pounds in the past, it wasn't a problem. My willpower was enough. But after turning 40, I hit a wall. I joked that my scale was "broken" because I was exercising and eating well—but I wasn't able to bust through my plateau.
I was beyond frustrated, and I wasn't willing to risk my health by remaining overweight. I was already on blood pressure medication, which was bad enough, and the thought of getting a new prescription for high cholesterol put me over the edge.
I reached out to a friend who hooked me up with a local personal trainer near where I lived. I began working out with her twice a week in the spring of 2013, and within a few months the weight melted right off. Even better, she helped me get off my blood pressure medication and avoid cholesterol medication altogether.
Here's how:
1. I exercised more.
I began 2013 with a New Year's resolution to lose weight. At the time, I was exercising 30 minutes a day, three times a week with an at-home fitness DVD. I lost 20 pounds with this particular fitness routine, but to reach my goal I realized I had to take it up a notch. So I started exercising six times per week. I was resistant at first, but exercise soon became a habit like brushing my teeth. It's now a nonnegotiable part of my life, especially because endorphins are really addicting.
2. I ate five small meals every day.
My trainer taught me to break up my meals into five smaller portions throughout the day, and avoiding going to bed at night after consuming a huge meal felt great. Within the first week of implementing this small change, I lost 2 pounds after a monthlong standstill. I was elated!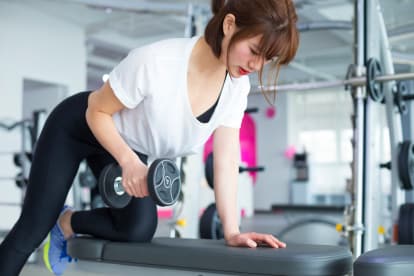 3. I lifted heavier weights.
In my opinion, lifting is the secret sauce of weight loss. Stubborn about listening to my trainer, I believed cardio was the magic pill. But when my treadmill broke, I was forced to add weights into my routine—and it really did work. After a week, I was down 3 pounds in seven days. I decided weights would get me to my goal faster and began a love affair with barbells. Weight-bearing exercise is also really important when it comes to avoiding bone loss.
It's been four years since I reached my goal, and hiring a personal trainer was the best investment I've ever made in myself. My husband wouldn't let me quit when I'd start to feel guilty about spending money on myself, and eventually I decreased from twice-a-week sessions to once a week to fit my budget better. Finally I decided to "fire" her (I mean that affectionately!) and take what I learned to maintain a fitter version of myself. It was a temporary monthly expense to save on future medical expenses.
My doctor always reminds me how great I'm doing with my health during my annual appointments. I give myself a window of 3 to 5 pounds, but once I exceed that number I come back to these three life-changing tips I learned from my personal trainer.
Losing and keeping the weight off is hard. Keep busting through those plateaus. You can do it!
Leave a comment
Comments will be approved before showing up.