June 23, 2017
I'll do just about anything in the name of beauty, especially when it comes to experimenting in my kitchen. Slathering mayo and eggs on my dry, frizzy hair in hopes that it would emerge gloriously smooth and shiny? Yup, did THAT, and it smelt horrible!
Whether you're in need of some brightening (lemon peels, anyone?), eyeball depuffing (bring on the cucumber!), or bump-soothing (eggs are wonderful in more than your morning omelet), why don't you have a look into your own pantry? It's there that I've discovered healthy, easy, cost-efficient solutions to some of my most pressing beauty concerns. Think lemons, oranges, bananas, honey, Greek yogurt, aloe vera juice...basically what I'm telling you is that your kitchen is filled to the brim with easy beauty recipes.
Throw yourself a DIY kitchen party (I'm about to with my fellow mbg editors) and you'll realize that pampering yourself really doesn't require leaving your home...
Skin-Brightening Lemon Mask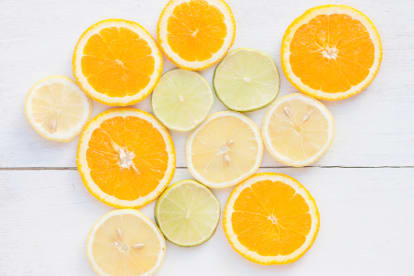 Lemons are filled with AHAs and BHAs, which remove dead skin cells and help clear up blackheads, acne, and discoloration, while honey is a natural antioxidant and antibacterial powerhouse.
Ingredients
½ teaspoon lemon juice
¼ teaspoon vitamin C powder (pop open a vitamin capsule, 'cuz who doesn't have vitamin C at home)
3 drops lemon essential oils for some extra citrus pizazz
Liquids to choose from: Aloe vera juice (soothing and healing), Greek yogurt (purifying and cleansing), and raw honey (nourishing and softening)
How-To
Mix all ingredients into a bowl until you get a smooth, thick paste.
Apply to your face and neck and leave on for 15 minutes.
Remove with a warm wet washcloth and repeat once or twice a week.
Oatmeal Face Scrub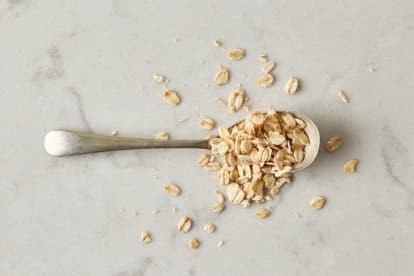 Oatmeal is rich in skin-nourishing beta glucan, and fresh-from-the-fruit-squeezed orange and lemon as you now know are rich in vitamin C and skin-brightening powers. The triple whammy of honey turns this into a purifying antioxidant-rich scrub full of skin-loving vitamins!
Ingredients
½ cup raw honey
½ tablespoon orange juice
½ cup instant oatmeal
½ teaspoon lemon juice
How-To
Wet the oatmeal with the lemon juice.
Then blend in honey and orange juice and mix well.
Scrub face and body to your heart's content!
Rose Body-Soothing Clay
Why It's Great:
All rainbow clays (think green, pink, red, white) have a high mineral content, and they help feed and absorb excess oils, dirt, and toxins from the skin. If you have dry skin, look for rose clay or white kaolin clay. For oilier skin, French green clay is the best.
Ingredients
¼ cup dry or powdered clay
1 to 2 tablespoons rosewater
How-To
Mix clay and rosewater together to form a mudlike paste.
Apply to body in the shower (to avoid making a mess), concentrating on particularly dull areas.
Once dried, wash off to reveal nourished skin.
Banana Smoothing Hair Mask
Bananas contain a healthy dose of potassium, vitamin E, and natural oils, which will work together to smooth frizzy strands, while an extra dose of almond oil will fortify your hair in a jiffy.
Ingredients
1 banana
1 tablespoon of almond oil
How-To
From roots to ends, coat hair with a mixture of 1 banana and 1 tablespoon of almond oil.
Let the mask work its magic for 20 minutes and rinse off.
Leave a comment
Comments will be approved before showing up.