As generational practitioners of Ayurvedic medicine and gatekeepers of some of the most powerful beauty and wellness formulas, my family earned the distinct honor of becoming the resident beauty experts for much of Indian royalty. While it was an exciting opportunity for them to test formulas on such noble clients—you can imagine the pressure that accompanied the perfecting process! Fortunately for me, I inherited the formulas (sans the struggles) and love to pass on my favorite family recipes.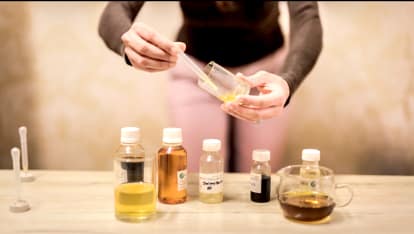 Royal-Worthy Beauty Recipes
Some of the most powerful solutions—especially for skin ailments—came right from the backyard. Honey masks made nourishing remedies for everything from acne to a dull complexion. Try: Mix honey with a mashed banana or avocado and cinnamon, then apply it to your skin for 15 minutes and rinse with cool water. Alternatively, add green tea (just empty a teabag!) with 2 tablespoons of honey to make a powerful antioxidant-packed mask!
For more stubborn acne, try neem. Known for its anti-inflammatory, antiseptic, and antibacterial properties, this plant was often prescribed as a skin-protecting treatment. The most traditional use of neem is to crush its washed leaves into a paste and apply it to skin. The paste can be left on skin for about 30 minutes (it also works wonders as an overnight spot treatment!). If you can't find neem leaves, you can also re-create this ritual by purchasing the ingredient in extract form, which is more readily available.
And who can deny the longtime love affair Indians have had with turmeric? This ingredient has been a choice healing herb for centuries in Ayurveda. Some of the plethora of beauty benefits turmeric is known for include its ability to soften skin, reduce wrinkles, and clear acne. Try: To treat oil-prone skin, mix 2 tablespoons of clay or sandalwood powder, ½ teaspoon of organic turmeric powder, ½ teaspoon of dry oats, a few drops of honey (or water for a vegan option)—and mix it with water. Apply this evenly over the face for 15 minutes before washing it off with lukewarm water. Use this mask daily until the acne subsides, then switch to weekly applications to keep blemishes from coming back! Note: Only apply turmeric in small amounts to avoid imparting a yellowish tint on skin.
Precious Natural Extracts
It's no surprise, since immortality was constantly on the minds of Indian royalty, that princesses and queens would go to great measures to seek über-precious, rare ingredients to appear ageless. Frankincense, rose, and sandalwood essential oils were and still are coveted by beauty aficionados.
Frankincense essential oil was beloved for its ability to aid in cellular turnover, which can revitalize skin as well as minimize the appearance of wrinkles.
And since lush rose gardens were considered a symbol of opulence, it makes sense that a precious essential oil derived from roses became a beauty luxury for women due to its hydrating and brightening effects on skin. Pure rose essential oil is extremely difficult to produce—it takes 12,000 rose petals just to make 5 ml of rose oil! You can still find it in skin care products today, but be sure to read the label, as many beauty brands try to cut costs by diluting rose oil with other essential oils.
Sandalwood essential oil—a rare commodity because of government regulation in India and the necessary growth time for sandalwood trees (15 years!)—was one of Indian royalty's best-kept beauty secrets. Its luminosity-boosting and anti-inflammatory benefits made it an essential part of beauty rituals. Today, it can only be found in luxury beauty products.
Thick tresses were the crowning glory for Indian royalty (pun intended), who practiced extensive hair care routines that involved protecting strands and promoting scalp and root health.
One of the more popular remedies was moringa oil, which Ayurvedic therapy recommended for both hair and skin. Also referred to as the "Miracle Tree," moringa oil works to moisturize the scalp and strengthen hair by delivering important nutrients to hair follicles. Moringa oil can also fight dandruff and split ends.
Indian Gooseberry (or amalaki) is another rich ingredient beloved for its hair benefits. Rich in iron and carotene, amalaki can treat dry strands, prevent hair loss, and protect natural hair color.
Hair oil massage was an important part of the traditional Indian beauty routine, for good reason. It allows for deeper penetration of nutrients and boosts circulation in the scalp. Coconut, almond, or olive oil are readily available and are easy substitutes for moringa or amla when you're up for a good head massage!
Finally, who could forget the amazing hair mask concoctions? Eggs were commonly applied to the hair for 30 minutes before a shampoo for shine (optionally with a very small amount of yogurt for very dry or damaged hair). Diluted lemon juice was also used on the scalp to fight dandruff. Note: When reaching for these ingredients, it's important to use them sparingly. Too much yogurt can leave hair excessively oily, and the smell of eggs can linger!
Leave a comment
Comments will be approved before showing up.